The mandate of the Section des archives de la Direction du greffe is to acquire the institutional and private documents that constitute the City's archives, to look after their handling and conservation and to communicate with researchers.
An archive, or archives, is "a collection of historical records relating to a place, organization or family" and also "a place where historical records are kept" — Cambridge Advanced Learner's Dictionary
Preparation at the Centre d'histoire de Montréal
After lunch, during your visit to the Centre d'histoire de Montréal, the museum guide will prepare the students to meet an archivist at City Hall. The guide will explain what archives are, using relevant examples. Each student actually has archives, that is, documents that testify to his or her past (whether they date from last night, last year, or from early childhood).
The City of Montréal also has archives. The total archival fonds covers about 3 linear km of documents dating mainly from 1796 until today. This means that the documents would stretch from the Berri-UQAM metro to the Rosemont station! The guide will show the students a few examples of the kinds of archives the City keeps.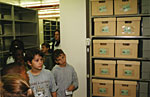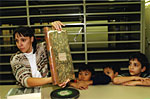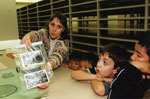 Visit to the vaults, October 22, 1999. Photographer: Normand Rajotte. Centre d'histoire de Montréal.
Citizens of tomorrow in the vaults
At City Hall, a guide will meet you and lead you to the vaults where the archives are kept. The students will meet an archivist there, who will show them around his or her workplace. The Citizens of Tomorrow are lucky. The vaults are not open to general public. This event will last about fifteen minutes.
Who may consult the City archives?
The Section des archives makes a consultation room on the ground floor of City Hall available to citizens. Anyone interested in the history and administration of Montréal may consult the archives: citizens, researchers, tourists, employees and the general public are invited either to consult Section des archives website, to write to them or to go in person to the consultation room.
For more information
At Publications Québec, you can get a 32-page brochure (in French) entitled Ton portefeuille archivistique, which outlines a fun, archive-related activity. Published in 1995, it costs $2.95.

Next - City Hall