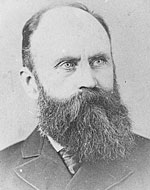 James McShane was born 7 November 1833 in Montréal. Businessman, he was mayor of Montréal from 1891 to 1892. He died 14 December 1918 in Montréal.
McShane studied at the Petit Séminaire de Montréal in 1847 and 1848. At 18, he went into business with his father and became a livestock dealer and meat exporter.
In 1878, he won a seat for Montréal West as a Liberal member of Parliament. He was re-elected in 1881, and was elected for Montréal Center in 1886. In the cabinet of Honoré Mercier, he was commissioner of agriculture and public works from 1887 to 1888. His career in the provincial parliament ended abruptly when he spoke publicly against his prime minister. He became Liberal member of the House of commons for Montréal Center in a by-election on 27 December 1895. It was of short duration because he was defeated in the general election the following year.
James McShane, called "People' s Jimmy", was a prominent figure in Montréal. Irish nationalist, he was appointed justice of the peace in 1863. He represented Sainte-Anne ward on the city council from 1868 to 1873. Thereafter, from 1874 to 1881, he became an alderman. On May 13, 1881, he was declared incapable of holding office. He returned to council in 1883 and remained there until 1887.
In 1891, James McShane wanted to run for mayor. He started a newspaper, Le Progrès municipal. Supported by the English-speaking community demanding an anglophone mayor in accordance with the alternation of French and English mayors, and by the French Canadian Conservatives opposing mayor Jacques Grenier, he won the election.
In 1892, the first electric tramway was put in circulation in Montréal. The electrification of the network extended over two years and played a major role in the expansion of the urban territory. Trade developed and the workers could live further from their place of work. In 1893, other companies set up the lines to connect the suburbs to Montréal.
Re-elected by acclamation in 1892, McShane decided to run again in 1893. His opponents wished to have a francophone mayor and so they selected Alphonse Desjardins, who won the election. In 1894, McShane ran against Joseph-Octave Villeneuve but he was defeated.