Welcome to the Library of the Montréal Botanical Garden.
Visit the Library of the Botanical Garden and discover the world of plants, on paper (and other media!).

With collections including over 25,000 books, 100 multimedia documents, 300 videos, 32,000 brochures, 55,000 volumes of periodicals and 500 current periodical titles, ours is one of the largest horticulture, botany and landscaping documentation centres in Canada.

The Library was founded in 1940, primarily to meet the current and future documentation needs of employees of the Botanical Garden, be they botanists, gardeners or teachers. In addition, it is accessible to a wider clientele, including students at all levels, expert and novice home gardeners, professionals and scientists.

Member of the
Council on Botanical and Horticultural Libraries

Partner of
Bibliothèque de botanique de l'Université de Montréal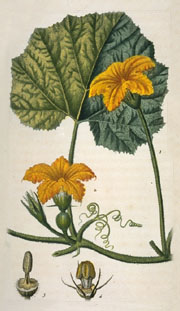 Cucurbita pepo
Flowers and leaves of the pumpkin
Illustration from: Chaumeton et al, 1828. Flore médicale, t.3, pl.123.