1. Opening a window onto a universe

Windows on the garden of the Kyoto Imperial Palace. Photo : Claude Gagné
Welcome visitors, whether you come from Montréal or the other side of the world, to this exhibition. Allow us to open a window and glimpse another universe, over a thousand years old, combining nature, human artistry and the divine...

There are many gardens in Japan-thousands of them, in fact. Not to mention the private gardens, and the very old gardens, destroyed by earthquakes.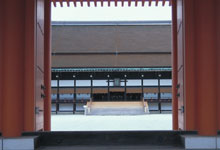 Entrance to the Imperial Palace in Kyoto. From 794 to 1868, Kyoto was the site of the Imperial court, and reigned as the capital of Japan. In this city alone there are a multitude of gardens, often attached to Zen temples.
Photo : Claude Gagné

When were the first gardens in Japan created, and what did they look like?

The Man.yo-shu, a collection of poems and legends dating back to the year 760, mentions the Emperor Temmu admiring "a pond edged with rocks and with an island in the middle, surrounded by azalea bushes".

But landscape architecture would appear to have come to Japan in the 6th century, when Buddhist philosophy was introduced from China.

Windows on the garden of the Kyoto Imperial Palace. Photo : Claude Gagné
Other styles of gardens would emerge as the centuries and different religious, philosophical and political influences flowed past.

Karesansui dry landscape gardens, and tea gardens inspired by Zen Buddhism...

gardens luring the visitor's eye out to the horizon...

even gardens making use of Western flowers.

These are the gardens that we call "Japanese" today, respected around the world as one of the highest forms of landscape architecture.