A touch of England in a French-style garden!
It?s hard to imagine a more symmetrical layout than that of the Perennial Garden!

These perfectly linear paths and straight-edged borders are typical of French-style gardens. While its highly classic structure has changed very little in 70 years, the Perennial Garden has undergone some changes, nonetheless, as can be seen from this 1966 photo.

Back then, the plants were still laid out in the French style, in keeping with the plans drawn up by Henry Teuscher in the 1930s. Today they are displayed in English-style borders. Observant visitors will also have noticed that the roses have disappeared from the central path; they were relocated to the Rose Garden in 1976.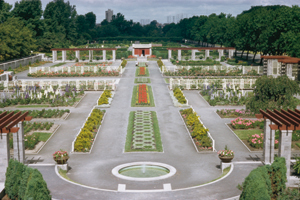 Jardin botanique de Montréal (Archives)