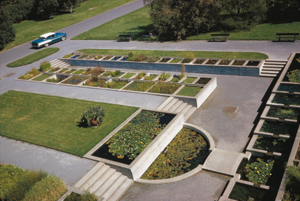 Jardin botanique de Montréal (Archives)
Not much has changed!
As can be seen from this 1963 photograph, the only change in the Marsh and Bog Garden since it was built was the installation of fountains in the 1970s.

The ponds are set flush with the ground, and visitors can stroll along the sunken paths between them to admire plants that grow in ponds and wetlands, many of which they would otherwise rarely get to see.

A welcome change from earlier days is that visitors can no longer park their cars along the access road.