The temple comes down
With its long, straight aisle flanked by pillar-like tree trunks and its impressive vaulted ceiling of greenery, the Shade Garden was originally like some Gothic cathedral, its floor paved with ferns and other shade plants.

But the columns of the temple were undermined by a microscopic fungus, and the majestic American elms had to be cut down. They were replaced in the mid-1980s by maple, linden and ash trees. A pond was added at the same time, along with bridges and winding paths.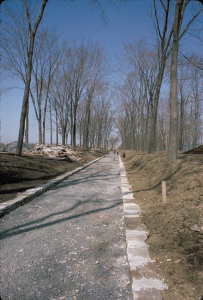 Jardin botanique de Montréal (Archives)