Steady growth
The first facilities erected at the Garden in 1932 were an administration building, a boiler house and a greenhouse - the bare essentials!

Production and exhibition greenhouses came later, and were officially opened in 1956 to mark the Botanical Garden's 25th birthday. In those days, a paved road separated the main building and the greenhouses.

It wasn't until the whole building was renovated in 1994 that the reception greenhouse was built, linking the building with the ten exhibition greenhouses.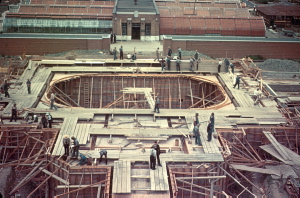 Jardin botanique de Montréal (Archives)
Work on the greenhouses began in 1939. But recently elected Quebec Premier Adélard Godbout scorned the project as "a few ferns in a Garden [...] to cost $11 million ..."

In 1940, his Minister of Roads and Public Works ordered work to be stopped on the outdoor gardens and the steel framework for the exhibition greenhouses to be demolished.