Follow the guide
Perhaps our eyesight blinds us to some of plants' special features.

How about donning a blindfold and touring the garden with a non-seeing guide? Here's what Martin, one of these guides, has to say about the experience:
"Smells are incredibly evocative. Pleasant, sweet ones often bring back memories of our mothers - like vanilla, which smells like Mom's baking. For older visitors, it is often childhood memories that resurface."

"When they're first blindfolded, people are always a bit uncomfortable. But as the tour progresses, they start getting into the experience and their other senses awaken: they feel the sun on their skin and the soft caress of the breeze. Children are always drawn to the tinkling of the fountain."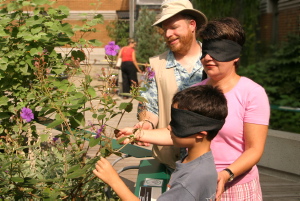 Jardin botanique de Montréal (Michel Tremblay)