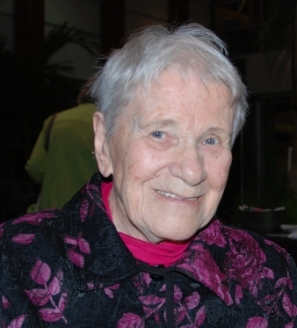 Felicitas Svejda was born in Vienna (Austria) on November 8, 1920. She obtained an engineering degree in agricultural science (PhD) in 1948 from the
Hochschule für Bodenkultur
Vienna where she worked as a research assistant in agricultural economics from 1947 to 1951. Her thesis focused on the investigation of the decline of the grapevine culture in Vienna and Lower Austria from 1900.
In 1952, she moved to Sweden to work at the Swedish Association of Seed Selections (
Sveriges Utsädesförening
) Research Station in Svalöf. In 1953, she left Europe for Canada and settled in Ottawa where she worked at the Central Experimental Farm as a statistician from 1953 to 1961, in the cereal division of the Department of Agriculture. She continued her career in Ottawa as a researcher in the division of ornamental plants of the Genetics and Plant Breeding Research Institute until her retirement in 1986.
Mrs. Svejda developed the Explorer rose series, including 25 hardy cultivars of the genus
Rosa
and named most of them in honor of Canadian explorers. She also developed a series of five hardy and compact
Weigela
cultivars, four cultivars of
Philadelphus
and two cultivars of
Forsythia
.
She is the author and co-author of 39 articles published in scientific journals, e.g Canadian Journal of Plant Pathology, Canadian Journal of Plant Science, HortScience and Euphytica. She also published in specialized rose or trade journals such as The Rosarian and The Canadian Rose Annual of the Canadian Rose Society, the American Rose Annual of the American Rose Society, Canadex, and Landscape Trades.
She has received several awards including a certificate of merit from the Royal National Rose Society of Great Britain (1985) and the prestigious Gold Medal of Portland (2004) for the 'John Cabot' rose. She also earned a certificate of merit from the Canadian Ornamental Plant Foundation (1999) and an Honorary Doctorate of Science from York University , Toronto (2000), for all of her scientific career and her contributions to ornamental horticulture.
Dr Felicitas Svejda died January 18, 2016, in Ottawa, Canada. She was 95 years old.
Photo: Québec Rose Society, 2010.