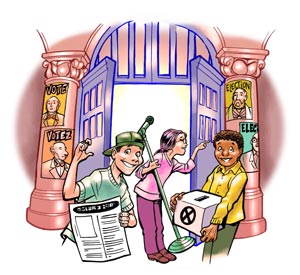 A Centre d'histoire de Montréal educational activity, together with the Section des archives de la Direction du greffe.
School children receive a comprehensive initiation to their role as citizens
The Citizens of Tomorrow activity is an original way to introduce students to municipal democracy in Montréal. Among other things, they have the opportunity to explore sites where the memory of municipal democracy is preserved.
Who can participate?
The activity is aimed at 2nd and 3rd cycle primary school groups, but it is also suitable for 1st cycle secondary students.
This site is divided into four sections:
The activity takes place in three stages:
It begins in class with two activities to prepare for the day of visits:

Democracy in Montréal
Special election: five mayors on the campaign trail!



It continues during a day of visits. Throughout the course of this day, students examine the history of the city in detail, in part thanks to the accomplishments of former mayors; they go through the experience of voting and learn the ropes where democracy and municipal administration are concerned.

The package includes three visits:

the Centre d'histoire de Montréal, the museum of the city,
the vaults at the Section des archives de la Direction du greffe,
City Hall.

Back in the classroom, the electoral process draws to a close with the counting of the vote.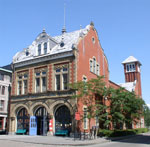 Centre d'histoire de Montréal
For information and reservations
The Centre d'histoire de Montréal
514 872-3207