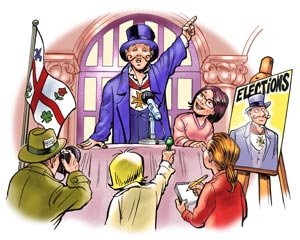 Special Election
Five mayors on the
campaign trail!
The election of a new mayor takes a lot of preparation! This time, five former mayors are running. The campaign will be very special! These five candidates need help to prepare their election campaigns.
What is an election campaign? It is the period that precedes Election Day. During the campaign, the candidates try to convince the electors to vote for them.
You must choose a candidate in class, with your teacher's help. You will help your candidate to win the election.
Click on your candidate