As soon as the cold, grey weather arrives, thousands of Montrealers and people across Quebec start planning their next escape south. Topping the list is Cuba, a sunny little paradise, with its countless sandy beaches, turquoise blue seas and lush vegetation.

Did you know that in 1937, Brother Marie-Victorin, the Montréal Botanical Garden's founder, developed a real "botanical" passion for this jewel of the Caribbean?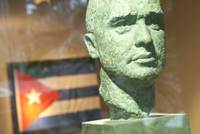 This virtual exhibition Under the Cuban Sun with Marie-Victorin, adapted from the exhibition presented at the Montréal Botanical Garden from 2008 to 2011, presents photographs, texts and even a video describing the seven trips that he made there between 1938 and 1944. Step over the threshold and you too are sure to fall under the country's charms as you discover the fabulous beauty and tremendous biodiversity of a (then little-known) Cuba that was so eloquently described by Marie-Victorin.
---
Unless otherwise stated, all images for this exhibit have been taken by Marie-Victorin and are from Division des Archives - Université de Montréal.

Brother Marie-Victorin will guide us through Cuba:
courier font
will be used to identify texts written by Brother Marie-Victorin
---

About the exhibition | Credits | Links | Beginning of the virtual exhibit


---

Thanks to the Friends of the Montréal Botanical Garden for their financial support.