A walk in
Old Montréal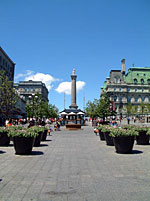 Place Jacques-Cartier. Photographer: Denis Tremblay. Source: www.vieux.montreal.qc.ca
The Centre d'histoire de Montréal and City Hall are both institutions located in Old Montréal. Your visit will give you the opportunity to encounter the historical heart of the city. The walk from the Centre to City Hall takes about twenty minutes. However, you have thirty minutes, from 12:30 to 1:00, to get there. This is a good time for the students to stretch and unwind a little. For many of the students, it will be their first contact with Old Montréal.
To ensure a memorable walk, you can prepare your itinerary in class. Whether you are familiar with Old Montréal or not, you have a number of choices. The Old Montréal website is a wonderful tool. You can follow the link The grand tour, with 150 pictures or consult the section Heritage in Detail. This latter section has an interactive map which will give you access to the history of all the buildings in Old Montréal, its streets, its public places and its works of art.
Our suggestions
Old Montréal website
Download the map of Old Montréal
Itinerary 1: via Notre-Dame Street

When you leave the Centre d'histoire de Montréal (#11 on the map), take Saint-Pierre on your right until you get to Notre-Dame. Turn right on Notre-Dame. City Hall is at 275 Notre-Dame Street East.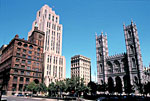 Place d'Armes. Photographer: The masked photographer. Source: www.vieux.montreal.qc.ca
A few points of interest: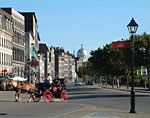 De la Commune Street. Photographer: Denis Tremblay. Source: www.vieux.montreal.qc.ca
Itinerary 2: Rue de la Commune and the Old Port

When you leave the Centre d'histoire de Montréal (# 11 on the map), go towards the back of the museum, on Place D'Youville, until you get to Rue de la Commune. Walk east (to your left) until you get to Place Jacques-Cartier. From there, walk up to City Hall.

A few points of interest: