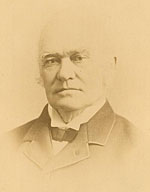 John Abbott was born 12 March 1821 in St. Andrews, Québec. Lawyer and businessman, he was mayor of Montréal from 1887 to 1888. He died 30 October 1893 in Montréal.
He attended courses at McGill College. He studied law in Montréal under Meredith, Bethune and Dunkin, and was admitted to the bar in 1847.
His political career is remarkable. He represented Argenteuil from 1860 to 1874. Directly involved in the Pacific scandal, he waited until 1880 before returning to office. He left the House of Commons on 15 January 1887. On 12 May, he was called to the senate. After the death of John A. Macdonald, Abbott became prime minister of Canada on 15 June 1891. He remained in office until December 1892.
His term at city hall was from 1887 to 1888. He favoured the construction of the Royal Victoria Hospital on the city's mountain parkland, despite the protests of ecologists. Abbott also campaigned for the secret ballot and for the water tax distribution. Many charges of corruption were brought against Abbott and his administration; as he chaired the special committee of inquiry into these matters, he was never completely cleared.