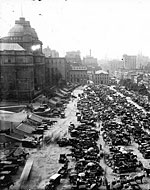 In the spring of 1921, Montrealers were once again called upon to select a new form of municipal government. According to the first proposal, Montréal would be governed by a council made up of seven to nine elected aldermen. According to the second proposal, the election of aldermen would be maintained in districts, but an administrative committee would exercise the executive power. Over 70 000 taxpayers, or nearly half of those with the property qualification, voted in favor of the second proposal, in a proportion of 63%.
In 1921, the re-establishment of democratic institutions brought about major organizational changes. With the creation of the executive committee, the principle of distribution of powers, laid down by the Board of Commissioners, was consolidated. The executive committee was now required to submit its budget for approval by city council, and to exercise strict control over all appropriations. It could take the initiative in legislative matters, and all decisions required its approval.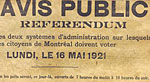 The new authority, made up of five aldermen chosen among city council members, also served to limit the powers of the mayor since he was allowed to attend executive committee meetings. Several observers have noted that the full exercise of power now rested with the executive committee.
The various charter amendments confirmed the importance of districts. According to the new charter, the city was divided up into 35 districts, each one electing a representative on city council for a two-year term.