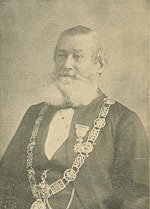 Jean-Louis Beaudry was born 27 March 1809 in Sainte-Anne-des-Plaines, Québec. Entrepreneur, he was mayor of Montréal from 1862 to 1866, 1877 to 1879, and 1881 to 1885. He died 25 June 1886 in Montréal.
At 14, he left the family farm for the commercial world of Montréal. He was a clerk, storekeeper, before opening his own dry goods store in 1834 in partnership with his younger brother.
As a lifelong nationalist, he signed in 1827 the petition in opposition to the proposed union of Canadas. At the time of the rebellion in 1837, he was one of the vice-presidents of the political wing of Fils de la Liberté. He fled to United States, and returned in June 1838. He resumed his business career and became a rich and prosperous man.
His political career was mainly at the municipal level. In June 1860, he was elected councillor. He won again the following year at the general election. In 1862, his long career as mayor of Montréal started. He easily was re-elected in 1863, 1864, and 1865. He declined to run in 1866, but ran again in 1868 against William Workman. He introduced religious and national antipathies into the campaign; many perceived him as a disproportionately ambitious politician.
Beaudry won the mayoralty race in 1877. He was re-elected in 1878, but defeated in 1879 by Sévère Rivard. He came back in 1880. He was once again mayor from 1881 to 1885. All in all, he had been the first citizen for 10 years.
His valuable heritage could be summarized as follows: establishment of the fire and health departments, inauguration of a city hall on Notre-Dame Street. Quite impressive was his vigorous intervention in 1878 to halt the Orange Order procession and to avoid bloody disputes between Protestants and Catholics.