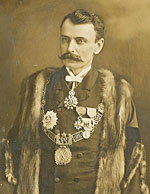 Honoré Beaugrand was born 24 March 1848 at Saint-Joseph-de-Lanoraie in Québec. Soldier, journalist, owner of newspapers and author, he was mayor of Montréal from 1885 to 1887. He died 7 October 1906 in Montréal.
He studied briefly at the Collège Joliette and spent only a few months with the Clerics of Saint-Viateur. He took a short training course at the School of Military Instruction of Montréal. He fought for 18 months in Mexico in the emperor Maximilien's army. In 1867, he followed the troops to France. After a short stay in Europe, he returned to America.
His presence in New England should be noted. He launched a newspaper and took up the cause of Franco-Americans. He also published Jeanne la fileuse : épisode de l'émigration franco-canadienne aux Etats-Unis (1878). In 1879, Beaugrand launched newspapers. With La Patrie, he became famous and rich. He owned the newspaper until 1897.
Beaugrand was twice elected mayor of Montréal. He campaigned for compulsory vaccination during a smallpox epidemic in 1885, and faced agressive opponents with great energy and courage. He is well known as a writer (La chasse galerie), but he will be remembered as a mayor who had the courage of his convictions.
See : Dictionary of Canadian Biography Online