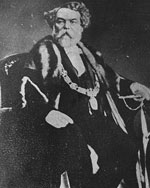 Aldis Bernard was born around 1810, perhaps in the Eastern Townships, Québec. Dentist, he was mayor of Montréal from 1873 to 1875. He died 3 July 1876 in San Jose, California. He was buried 15 July in Montréal.
He studied dentistry in Philadelphia and practiced in southern United States. He returned to Canada in 1840 and stayed in the Niagara region. He took up residence at Montréal in 1841.
The municipal career of Aldis Bernard was remarkable. He was initially councillor for the district of Montréal Center from 1858 to 1861, and from 1866 to 1873. He was chairman of the committees on public order, health, and finance. In 1868, he was appointed alderman by the municipal council. He was selected in June 1873 as mayor to succeed Francis Cassidy, who had died in office. The following year, he was re-elected by popular vote.
Under his administration, the city charter was amended in order to give to the city more powers in public health matters. The objective was to counter the general carelessness which prevails at that time. The municipal council was henceforth able to establish the health department to prevent contagious diseases. It would also rule against unsanitary places, force citizens to keep their grounds clean, and ban pigs within city limits.
To provide people with healthier living conditions, Aldis Bernard worked to develop large public parks : La Fontaine, Mount Royal, Sainte-Helène, Dominion Square. Aldis Bernard did not speak French and hardly understood it. But Montrealers appreciated him for his enlightened liberalism and his sense of justice.