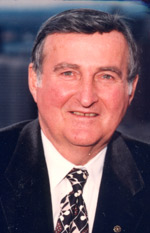 Pierre Bourque was born 29 May 1942 in Montréal. Horticulturist, he was mayor of Montréal from 1994 to 2001.
He studied in Belgium where he obtained a diploma in horticultural engineering. He had a long and distinguished career at the city of Montréal.
In 1965, while only 23, Pierre Bourque was in charge of the maintenance of green spaces at the 1967 World Fair. In 1969, he moved to the Botanical Garden, and in 1980, he was responsible for the Floralies internationales which was a huge success. Among his other accomplishments, we have the Japanese Garden, the Chinese Garden and the Insectarium at the Botanical Garden. His greatest achievement is indisputably the Biodôme in 1992.
In 1994, Pierre Bourque founded the Vision Montréal party and embarked on a career in municipal politics. On November 6, he won the election. He launched countless initiatives related to the environment. He created the network of ecodistricts, set up the selective collection of household waste and transformed the old Miron quarry, which became the Saint-Michel environmental park.
Pierre Bourque was re-elected on 1 November 1998, and his second term was marked by the revival of the project "one island, one city". He convinced the government of Québec to endorse it and implement it. He was defeated at the 2001 election.