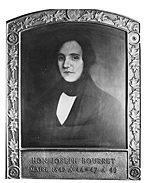 Joseph Bourret was born 10 June 1802 in Rivière-du-Loup. He was mayor of Montréal from 1842 to 1844, and from 1847 to 1849. He died 5 March 1859 in Montréal.
After classical studies at Collège de Nicolet, Joseph Bourret moved to Montréal to study law. After three years in his uncle's office, he was admitted to the bar in 1823. During his practice, Bourret was involved in national and municipal politics. Described as a moderate nationalist, he was close to Ludger Duvernay and Louis-Hippolyte La Fontaine. In 1843, he co-founded the Société Saint-Jean-Baptiste-de-Montréal, a mutual aid association he chaired in 1848 and 1849. He was also one of the co-founders of the Montréal City and District Savings Bank that set up in order to build up savings in the poorest classes. This institution was supported by the church, and Bourret maintained close relations with Bishop Ignace Bourget throughout his life.
Appointed alderman in Montréal by the governor in 1840, he represented the Centre district from 1842 to 1846, and Saint-Antoine district from 1846 to 1850. As mayor of Montréal, he launched several projects, most of which were completed during the terms of his successors. For instance, the building of Bonsecours Market was launched in 1844, but its cornerstone was laid by mayor James Ferrier. The municipalization of the waterworks was proposed by Bourret and his council, but the project was carried out in 1845 under mayor Ferrier.