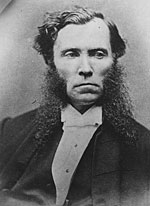 Francis Cassidy was born 17 January 1827 in Saint-Jacques-de-l'Achigan, Montcalm County. He was mayor of Montréal from March to June 1873. He died 14 June 1873 in Montréal.
He studied law in Montréal. He qualified as a lawyer on 18 August 1848. Cassidy soon became famous, as a lawyer, one of the most brilliant in Montréal in civil as well as in criminal proceedings. He held key positions : president of St. Patrick's Society, president of the Institut Canadien (1849-1850, 1857-1858), and member of parliament for Montréal-West (1871-1873), elected by acclamation.
Cassidy became mayor of Montréal on February 1873; he was elected by acclamation. Unfortunately, he died 3 months later at 46. He was known for his role in the famous Guibord affair, as the lawyer of Notre-Dame parish. Even if he had already been president of the Institut Canadien, adversary of the parish, he believed that it was his duty to defend the Church of Canada.