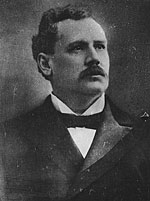 James Cochrane was born 15 September 1862 in Kincardine, Scotland. Contractor, he was mayor of Montréal from 1902 to 1904. He died 28 May 1905 in Montréal.
He immigrated to Canada when he was very young. He studied at British Canadian School and Collegiate College in Montréal. He worked for the Montréal Telegraph Company. He took part in the construction of the Intercolonial Railway and the first telegraph line of Lake Superior's northern area. He was among the Canadian troops sent to counter the Metis rebellion in 1885. On his return, he created the Sicily Asphalt Paving Company and the Laprairie Pressed Brick Company.
Cochrane ran at the federal election in 1891, but was defeated. In 1900, he was elected liberal MP for Montréal. He sat in House of Commons until 1905.
At the 1902 municipal election, his chances did not seem very good. But he defeated the candidate of the anglophone bourgeoisie, Richard Wilson-Smith. The first year was easy, but the second one was quite agitated. He had to face the first public service strike in Montréal: tramway employees stopped working in February 1903. They demanded wage increases and recognition of their union. Because this mode of transportation was vital, the strike rapidly ended in favour of the workers. Cochrane did not run at the 1904 election.