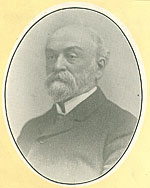 Alphonse Desjardins was born 6 May 1841 in Terrebonne. Journalist, lawyer, and businessman, he was mayor of Montréal from 1893 to 1894. He died 4 June 1912 in Terrebonne.
He studied at the Collège Masson in Terrebonne. He enrolled in the law school at the Collège Sainte-Marie in Montréal and was called to the bar in 1862. He practised law for approximately six years and became a journalist. He was an editor and parliamentary correspondent for L'Ordre, then promoted vice-chairman of the editorial board of Le Nouveau Monde. Through journalism, he promoted his ultramontane, conservative, and catholic ideas.
In 1874, Desjardins entered politics. He was elected without opposition to the House of Commons for the district of Hochelaga, and remained there during 18 years. In 1892, he was appointed to the Senate, where he defended the educational rights of Catholic minorities in Canada. In 1896, he resigned his Senate seat and entered the federal election. Defeated, he never ran again.
In 1893, whereas he sat as senator, Desjardins was elected mayor of Montréal. Supported by the anglophone reformers, he campained for better control of municipal finances. He also promoted the annexation of suburban municipalities and the development of the port. He held office for only one year and did not seek a second term in 1894.
Desjardins had a career in business as well as in politics. He was well known as president of Banque Jacques-Cartier. He was also associated with many enterprises, notably in financial, mining, and transport sectors. He was a real estate promoter and helped established the city of Maisonneuve.