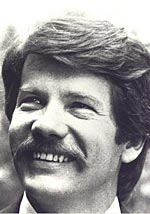 Jean Doré was born 12 December 1944 in Montréal. He was mayor of Montréal from 1986 to 1994.
He studied law at the Université de Montréal. Gifted for communications, he worked as a journalist at Radio-Canada in 1970. Concerned about social issues, he joined the Fédération des associations coopératives d'économie familiale and the Ligue des droits et libertés.
In 1974, he was among the founding members of the Montréal Citizens Movement (MCM). As mayoral candidate in the 1982 election against Jean Drapeau, he was defeated but gained 36 % of the votes. He entered city hall in 1984 by way of a by-election. At the following general election in 1986, he gained a bright victory. His party took 55 of the 58 seats, and he won the mayoralty with 66% of the votes.
Jean Doré and the MCM focused on the democratization of political institutions and the decentralization of the municipal administration. District advisory committees were created and Accès Montreal offices were established. To support a participative democracy, the administration put forward a proposal for the establishement of district advisory committees, the Bureau de consultation de Montréal, and standing committees. With the election of 1990, Jean Doré was re-elected with a majority of 59%.
During the second term with the MCM, the Chinese Garden and the Biodôme were set up. Both were immensely popular. Although great efforts were put forth to restore the city's dynamic economy, the general context was not conducive to such measures. In 1994, Jean Doré lost the election to Pierre Bourque.