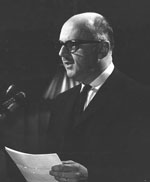 Jean Drapeau was born 18 February 1916 in Montréal. Lawyer, he was mayor of Montréal from 1954 to 1957, and from 1960 to 1986. He died 12 August 1999 in Montréal.
He studied at the Université de Montréal, where he received a licence in social, political economy and political science in 1937, and a Bachelor of Arts degree, the following year. From 1938 to 1941, he studied law.
While keenly interested in politics, he specialized in criminal, corporative and commercial law. In 1950, he acted jointly with Pacific Plante as public prosecutor in the judicial enquiry into the Montréal police force. On the strength of his popularity as a result of that enquiry, he was elected as mayor of Montréal in 1954, at the age of 38. Defeated in 1957, he founded the Parti civique de Montréal in September 1960. In October of the same year, he won the mayoralty race; he was re-elected as mayor in 1962 and 1966. On 9 February 1970, Jean Drapeau was appointed as council chairman of the newly created Communauté urbaine de Montréal. He was re-elected as mayor in 1974, 1978 and 1982. He left city hall in 1986.
Many events marked his administration: the extension of the territory of Montréal through the annexation of Rivière-des-Prairies, Saraguay, Saint-Michel and Pointe-aux-Trembles; the development of remarkable facilities and infrastructures, such as Place des Arts and the metro. He also put Montréal on the map with the 1967 World Fair, the Olympic Games of 1976 and the Floralies of 1980.
No other mayor of Montréal held office for 29 years. He gained national and international fame.