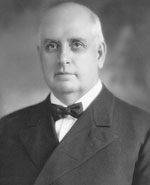 Charles Duquette was born 25 July 1869 in Montréal. Businessman, he was mayor of Montréal from 1924 to 1926. He died 30 December 1937 in Montréal.
He completed his commercial studies at the Collège de Saint-Henri. He worked for the mutual insurance company L'Alliance nationale. He was treasurer, director, general vice-president and chief inspector before becoming general manager and president in 1922.
At the municipal election in 1924, several groups wanted to defeat Médéric Martin in the mayoralty race. Charles Duquette then gained the support of all opponents to Martin, conservatives, anglophones, the archbishop and supporters of the daily newspaper Le Devoir. Duquette succeeded, but he was only a brief episode in the reign of Martin, who was re-elected in 1926. The election of Camillien Houde in 1928 put an end to the career of Martin in municipal politics.
At city hall, Duquette quickly realized that he needed more powers to remain in control. He asked Québec to grant more authority to the mayor, so as to be able to carry out surveys and to keep city services and employees under strict supervision. Those requests never materialized.
The term of Duquette was especially marked by the investigation of Judge Coderre, set up in September 1924 to examine the conduct of the members of the police force of Montréal and their connection to the municipal administration. The report revealed several irregularities, including the corruption and the protection of gambling houses and houses of prostitution. The report, made public in March 1925, was overwhelming. Coderre put forth several recommendations, including the appointment of a qualified chief of police, and the increase of police manpower.