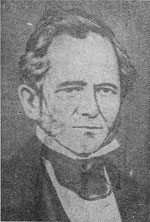 John Easton Mills was born 14 October 1796 in Tolland, Massachusetts. Businessman, he was mayor of Montréal from 1846 to 1847. He died of typhus on 12 November 1847 in Montréal.
Before entering politics, John Easton Mills was a fur merchant, then a banker. Soon after his arrival, he and his brother Cephas set up C & J.E. Mills, specialized in the fur trade. In the 1840s, he left the trade and launched into finance. In 1844, he was a banker on Saint-François-Xavier Street. He later established his own bank, the Mills Bank, which financed several major projects such as the construction of St. Patrick's Basilica (set up between 1843 and 1847). In 1846, he became general manager of the Montréal City and District Savings Bank, set up to encourage savings in the poorest classes.
In 1846, John Easton Mills made his official entry into municipal politics. His election did not go smoothly. At that time, city councillors elected the mayor by simple majority vote. Heading the Reformist Party, Mills was thus elected with 10 votes against 9. The outgoing mayor, the Tory James Ferrier, then decided to vote for himself in order to defeat this majority. As the outgoing mayor could only vote in the event of a tie between two parties, Ferrier obstinately refused to leave his seat. After the Superior Court ordered a second vote on 14 December 1846, Mills was finally elected by 11 votes against 5.
During his short career as mayor, Mills was renowned for the management of the outbreak of typhus in Montréal in the summer of 1847, following the massive arrival of immigrants fleeing the famine in their native Ireland and suffering from the "fever of the ships". All those who fell sick had no resources and overcrowded the port. Alerted by a doctor of the high risk of contagion, Mills then called for the building of huts in Pointe-Saint-Charles. He gathered the necessary resources to help these helpless victims. Mills also tried to calm the angry Montrealers threatened by the epidemic. Mills even worked as a male nurse and the epidemic was finally receding. Unfortunately, Mills died soon after contracting the disease. His deep devotion to duty was immediately recognized and he was called the "martyr mayor".