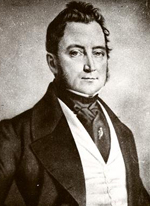 Édouard-Raymond Fabre was born 15 September 1799 in Montréal. First true bookseller and Patriote, he was mayor of Montréal from 1849 to 1851. He died of cholera on 16 July 1854, in Montréal.
Between 1807 and 1812, Édouard-Raymond Fabre studied at the Petit Séminaire de Montréal. At 14, he became a clerk in the hardware store of Arthur Webster, where he learned all aspects of business practices. In 1822, he left for Paris to pursue his training at the famous bookstore of Martin Bossange. On his return, he set up his own bookstore which remained popular with students, teachers, professionals, and the clergy.
At the end of the 1820s, he became an active member of the Patriote movement. In 1835, he took part in the foundation of the Maison canadienne de commerce and the Banque du peuple, institutions set up in order to thwart English Canadian financial supremacy. A loyal friend of Louis-Joseph Papineau, whom he greatly admired, he supported the activities of the Patriotes. His bookshop was one of the headquarters of the group and he helped the newspapers La Minerve and Le Vindicator, both of which endorsed the reformist beliefs. Sent to jail on 12 December 1838, following the rebellions, he was released, for lack of evidence.
In 1833, he became a member of the city's medical committee. In 1844, he was president of the large jury of Montréal and since 1848, he was an alderman for the East ward. That same year, he was appointed chairman of the finance committee. His reputation as manager was such that the council elected him mayor in 1849. He was re-elected the following year for a second term. As mayor, he was very active. He largely contributed to the consolidation of city and the relief efforts to counter the cholera epidemic in 1851. He also managed the insurrections of Tories on April 1849, following the compensation for victims of the repression of the 1837-1838 rebellions. On learning of his death, Louis-Joseph Papineau stated that he has rendered oustanding services to the country.