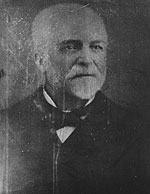 Jacques Grenier was born 20 January 1823 in Berthier-en-Haut, Berthierville, Québec. Businessman, he was mayor of Montréal from 1889 to 1891. He died March 5, 1909 in Montréal.
He followed commercial studies in Berthier-en-Haut and, at 16, entered the employ of a merchant in Sorel. In 1844, he moved to Montréal where he became a clerk. A few years later, he opened his own business, specializing in wholesale dry goods. In 1858, he formed a partnership with Pierre-Paul Martin to continue under the name of Grenier and Martin. When the company was dissolved in 1885, he founded Jacques Grenier and Company with his nephew, Jacques-Hercules Giroux. He was very prosperous, and had a great number of commercial concerns.
In municipal politics, he was councillor of the East ward from 1857 to 1860, and alderman from 1861 to 1865. He was councillor of Saint-Jacques ward in 1872-1873, alderman of the same district from 1874 to 1889. He chaired the waterworks, police, and finance committees. He resigned as alderman on 8 February 1889, and was elected mayor by acclamation. He served two consecutive terms, before being defeated in 1891 by James McShane.