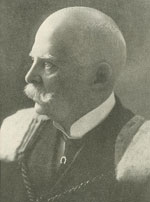 John James Edmund Guerin was born 4 July 1856 in Montréal. Doctor, he was mayor of Montréal from 1910 to 1912. He died 10 November 1932 in Montréal.
Guerin studied at the Collège de Montréal, then at McGill University in medicine. He pursued his studies at the Royal College of Physicians in England. Back in Montréal, he taught clinical medicine at the Université de Montréal.
Guerin represented Montréal in the Legislative Assembly; he won a by-election in 1895. He was re-elected in 1897, and in 1900. During those two terms, he was minister without portfolio in the Marchand cabinet and in the Parent cabinet. He was defeated at the provincial election in 1904. At the federal level, he ran for Sainte-Anne in 1917, but was defeated. He entered the House of Commons in 1925; he was re-elected in 1926, defeated in 1930.
As mayor, Guerin chaired the newly created board of commissioners. He was the first mayor appointed on a strictly ceremonial basis. Under the revised charter, the mayor and aldermen had no more authority. Commissioners had to deal with scandals uncovered by the Cannon inquiry. The municipal public service became a more bureaucratic organization, some civils servants were fired, and examinations were used to replace them. A system of call for tenders was also set up to reduce patronage and favoritism. On the other hand, the board renewed contracts with lighting and tramway companies, without seeking to reduce monopolies.