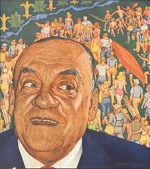 Camillien Houde was born 13 August 1889 in the working district of Saint-Henri in Montréal. He was a mayor of Montréal from 1928 to 1932, 1934 to 1936, 1938 to 1940, and 1944 to 1954. He died 11 September 1958 in Montréal.
Camillien Houde completed a commercial course in 1912 and worked in the banking sector. Rapidly, he showed a great interest in politics. Member of the Conservative Party, he was elected for the first time at the Quebec Parliament in 1923. The adventure lasted 10 years. Thereafter, he made the jump a few times on the federal scene. However, most of his career as a public figure was as mayor of Montréal. Elected for the first time in 1928, he got the mayoralty with the promise to open city hall to ordinary citizens. But his political program was very quickly guided by the need for relieving the misery generated by the economic crisis. Initially, the city distributed, via the Société Saint-Jean-Baptiste, $100 000 to the impoverished citizens. In parallel, in order to give jobs to unemployed people, vast building sites were launched: the Botanical Garden, chalets of Mount Royal and La Fontaine parks, viaducts, public baths and public urinals for men baptized camilliennes in honor of the mayor. At his own expense, Camillien Houde did not hesitate to make generous contributions and to transform his home on Saint-Hubert street into a real centre of mutual aid. During the crisis in the 1930s, Houde was elected and defeated twice. After his re-election in 1938, Houde still faced the precarious state of municipal finances.
At the beginning of the Second World War, opposed to any idea of conscription, Camillien Houde declared in the presence of journalists his opposition to the national registration which, in his opinion, was a first step towards the conscription. Considered by the Canadian authorities as an enemy of the interior, the mayor of Montréal was arrested by the federal police as he was leaving city hall on 5 August 1940, and was interned at Petawawa camp in Ontario. On 17 August 1944, after four years of detention, Camillien Houde returned to Montréal. A crowd in jubilation reserved him a triumphal reception at the Windsor station. Carried by this wave of sympathy, he was re-elected next fall and remained mayor of the metropolis until 1954. Adulated by the masses, Camillien Houde remained an emblematic figure of Montréal.