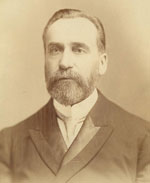 Hormidas Laporte was born 7 November 1850 in Lachine. Financier and businessman, he was mayor of Montréal from 1904 to 1906. He died 20 February 1934 in Montréal.
Laporte was educated at Sault-au-Récollet School. At 17, he started working in a nails manufacture. Every evening, he studied with a private teacher. In 1870, he worked in the retail grocery trade and learned how to run such a business. Six months later, he set up his own business. He worked also in the coal and wood trade. In 1881, he set up the Laporte, Martin and Co, a wholesale grocery. This firm thrived quickly, in spite of a flood and a fire in the store. Laporte made a fortune and could afford to buy a chain of stores.
Alderman from 1896 to 1904, then chairman of the city council, he became mayor of Montréal in 1904. Important member of the reformist group with Herbert Brown Ames, he wanted to eliminate favoritism and corruption at city hall, and to reduce the growth of public expenses. In 1904, the election was strongly directed towards the fight for the abolition of trusts which controled electricity, gas and trams. Laporte campaigned for municipalization of public services. Elected with a strong majority, he fought trusts and asked for the municipalization of gas services, while trying to obtain better conditions and better fees for Montrealers. Although he was supported by several media, Laporte did not succeed in defeating the tram and electricity trusts. The owners of trusts used their influence in the legislative council.