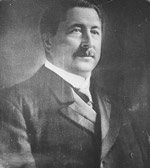 Louis-Arsène Lavallée was born 2 February 1861 in Berthier. Lawyer, he was mayor of Montréal from 1912 to 1914. He died 19 November 1936 in Montréal.
Lavallée attended the Collège de Joliette. He studied law at Université Laval à Montréal. He was called to the bar in 1884.
Lavallée ran at the federal election of 1896, but was defeated. He represented Saint-Jacques ward from 1900 to 1904, then La Fontaine ward from 1904 to 1912. He was elected mayor of Montréal in 1912. He gained the support of the reformers because he cofounded Alliance Nationale, with Hormidas Laporte, one of the leaders of the reformist movement. In fact, Lavallée was a mayor of transition between reformists and populists.
Lavallée was called "father of Greater Montréal" because he concentrated his efforts on the annexation of municipalities close to Montréal. During his terms as alderman and mayor, he was chairman of the annexation committee, and the legislative committee. He considered that the city of Montréal had to change its current limits and catch up with New York. Proposals for annexations, especially during his terms as alderman, were numerous. A few municipalities, like Outremont and Westmount, were opposed, while others were in favor: Saint-Henri and Sainte-Cunégonde in 1905, and starting in 1907-1908, municipalities in the northern area of the island. In 1910, Montréal annexed about ten municipalities: Saint-Louis, Côte-des-Neiges, Notre-Dame-de-Grâce, Côte Saint-Paul, Émard, Bordeaux, Longue-Pointe, villages of Ahuntsic, Beaurivage, La Longue-Pointe, Tétreauville, and Rosemont. The population of Montréal increased to more than 500 000.