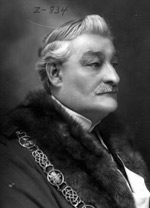 Médéric Martin was born 22 January 1869 in Montréal. Industrialist, he was mayor of Montréal from 1914 to 1924, then from 1926 to 1928. He died 12 June 1946 in Laval.
Of modest origin, he studied initially in Montréal, then at the Collège de Saint-Eustache. Later, he became owner of a cigar manufacture and amassed a substantial fortune.
He represented Papineau ward as an alderman from 1906 to 1910, and from 1912 to 1914. He became mayor of Montréal in 1914. His 12 years as mayor, at the time, constituted a record. In parallel, he was also elected in 1906 as Liberal MP for the district of Sainte-Marie. He was re-elected in 1908 and 1911. He ended his career as member of parliament in 1919 when he was appointed member of the legislative council of the province of Québec for the division of Alma.
In 1914, Médéric Martin, populist, won against George Washington Stephens, even if the investigation of Lawrence Cannon in 1909 revealed that he had embezzled funds. In 1914, by winning the election for mayor, he put an end to the tradition of alternation of French and English mayors.
Martin immediatly called for the abolition of the board of commissioners, but public opinion and the media were against it. He nevertheless tried to heed up their reports and requested investigations into everything. He came out against conscription and argued that the city could not compensate the families of volunteers due to the lack of funds.
In 1918, the financial problems of Montréal were such that the municipality was put under trusteeship. In 1916 and 1917, the city had run up deficits of 2 and 1.7 million dollars. Lomer Gouin, prime minister for Québec, thus forced Montréal to annex Maisonneuve, which then has a debt of 19 million, and imposed an administrative commission. The number of aldermen was reduced and the mayor's authority became honorary. The water and property taxes were increased, a sales tax was created, municipal departments were reorganized, a municipal reform was undertaken, and the administration was reduced. There was also a wage freeze for municipal employees. Unfortunately, this wage freeze coincided with an inflation period and involved in the fall of 1918 a series of employee strikes. Police officers, firemen and waterworks mechanics followed suit. The conflict ended in arbitration. The matter of trusteeship was finally raised by Prime Minister Alexandre Taschereau, successor to Lomer Gouin in 1921. Henceforth, councillors were directly involved in municipal decisions.
The fire at city hall during the night of 4 March 1922 was devastating. The entire burned down: only the stone walls remained. The mayor evaluated the damage at 10 million dollars. The city had to borrow to be able to rebuild.
The Martin administration was shaken many times by favoritism and corruption scandals. In 1924, Martin was defeated by Charles Duquette. But since, Duquette was discredited following the Coderre investigation, Martin was re-elected in 1926. Finally, in 1928, Martin was defeated by Camillien Houde, one of the great figures among mayors of Montréal.