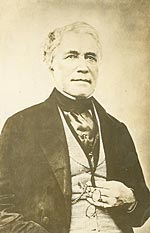 Peter McGill (McCutcheon) was born in August 1789 at Creebridge in Scotland. Businessman, he was mayor of Montréal from 1840 to 1842. He died 28 September 1860 in Montréal.
Attending grammar school in Scotland, Peter McCutcheon emigrated to Canada in June 1809, at the invitation of his uncle John McGill, a Loyalist having made his fortune in Canada after the American Revolutionary War. He started his career in business at the bottom of the ladder as a clerk at Parker, Gerrard, Ogilvy & Company. One decade later, he became a junior partner in that firm, and the following year, in 1820, he launched his own company, McCutcheon & Dowie. Specialized in timber broking, the company progressively diversified its activities. Starting in 1825, he was in the import-export of various food products, including alcohol and potash. In 1823, the business adopted the name of Peter McGill & Company, as the owner had changed his name. On March 21, 1821, Peter McCutcheon adopted his uncle's name, in exchange of which he became his sole legatee.
McGill was very active in politics, at both the national and municipal levels. He was a member of the Legislative Council of Lower Canada and its executive council as of 1832. In 1836, he was also a member of the Special Court of the Sessions of the Peace, in charge of the administration of current city business. He became the second mayor of Montréal after the coming into force in 1840 of the new charter incorporating Montréal as a city. During his two years at city hall, he was responsible for the introduction of the first by-laws relating to public markets, the Fire Department and the levying of property taxes.