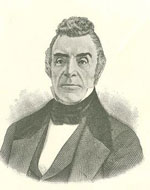 Wolfred Nelson was born 10 July 1791 in Montréal. Doctor and patriot, he was mayor of Montréal from 1854 to 1856. He died 17 June 1863 in Montréal.
At 14, he was apprenticed to Doctor C. Carter in Sorel. He received his surgeon's licence in 1811. During the War of 1812, he was a doctor of the British army and accompanied the troops along the Richelieu River. After the conflict, he settled in Saint-Denis. Very near to the French-Canadian population, he endorsed the reformist ideas and engaged in politics. He was active in the rebellion of 1837. He won fame by defeating the British troops at Saint-Denis. But following the setbacks of the Patriotes, Nelson was made prisoner, judged and condemned to exile in Bermuda. He returned to Montréal in 1842.
Always impassioned of politics, he was elected member of the Assembly for Richelieu from 1844 to 1851. He defended with eagerness the rights of French Canadians and campaigned for responsible government. He then became inspector of prisons and asylums of the province, which provides us today with valuable information on the prison system of the time.
In 1854, Nelson defeated Édouard-Raymond Fabre at the polls for mayor of Montréal. He was identified as a progressive administrator. He created the function of municipal inspectors responsible for the application of the by-laws. He tackled insalubrity, poverty and unemployment in the city. He considered the idea of creating a park atop Mount Royal. Having unceasingly continued to practise his medical profession in spite of his political responsibilities, he published in his capacity as mayor a booklet on the prevention of cholera. He retired from municipal politics in 1856.