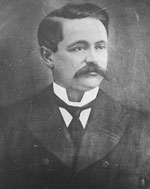 Louis Payette was born 25 December 1854 in Montréal. Contractor in construction, he was mayor of Montréal from 1908 to 1910. He died 19 March 1930 in Montréal.
Payette studied commerce at the Académie des Frères des écoles chrétiennes. He learned how to build houses while working with his father. He went to the United States to improve his knowledge about buildings and he worked in railroad construction. Back in Montréal, he worked 12 years as building site foreman. Owner of the Labelle-Payette Company, he constructed many buildings: Viger Station, La Presse building on Saint-Jacques Street, Château Frontenac in Québec.
From 1902 to 1908, he represented Saint-Louis ward. His reputation as a contractor enabled him to chair the finance committee in 1906 and 1907. Liberal, he became mayor in 1908, without opposition from the reformists, who did not find a successor to Henry Archer Ekers.
He knew difficult times during his term when the government of Québec decided to inquire into the city administration. Québec entrusted Judge Lawrence John Cannon with this investigation. In his report, submitted on 20 December 1909, the judge questioned especially police, public works and fire departments. He concluded that corruption, favoritism and patronage were rampant. He denounced the "gang of 23", all councillors, including the future mayor Médéric Martin. Cannon proposed to decrease the number of aldermen and to set up a control bureau. His recommendations to create a "council with aldermen" and to prosecute the people involved were ignored and shelved.