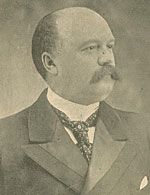 Raymond Préfontaine was born 16 September 1850 in Longueuil. Lawyer, he was mayor of Montréal from 1898 to 1902. He died 25 December 1905 in Paris and was buried 25 January 1906 in Montréal.
Préfontaine was called to the bar in 1873. In 1875, he was the liberal MP for candidate in Chambly. Elected in 1875 and defeated in 1878, he won a by-election in 1879, was defeated in 1881. In 1886, he entered the House of Commons, where he sat until 1905. His marriage gave him an entrée into the world of business and showed him how having municipal power could lever profit from investment in land. In 1879, he was elected mayor of Hochelaga. Many changes occurred: streets were paved with stone, trams prolonged and public services improved. In 1883, through compromises, he obtained the annexation of Hochelaga to Montréal. At that time, he became alderman of Hochelaga ward. From 1889 to 1898, he chaired the roads committee by which he organized a system supporting the development of the eastern part of Montréal. He then defended the city's interests while promoting his personal interests.
During the 1890s, he acted in liaison with contractors and practised a populist policy. With other politicians, Cléophas Beausoleil and Henri-Benjamin Rainville, he dominated the political life at city hall. Under his administration, Montréal changed: as was the case in Hochelaga, he improved streets by changing pavements, installing electric lighting and electric streetcar lines. He became very popular because he campaigned against drudgery, hired day-laborers and defended small French-Canadian holders.
George Washington Stephens, spokesman of rich anglophones, rose against the high costs of these works and tried to counter the prevalent influence of Préfontaine. But Préfontaine nevertheless succeeded in being elected mayor of Montréal in 1898 and again in 1900. His opponents then revealed scandals, including patronages which shook him and forced public investigations. During his mayoralty, a new charter was adopted, introducing a more modern form of government and which increased the mayor's authority. He did not run at the 1902 election, but entered Sir Wilfrid Laurier's government as navy and the fisheries minister.