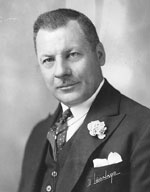 Adhémar Raynault was born 12 July 1891 in Saint-Gérard-de-Magella. Businessman, he was mayor of Montréal from 1936 to 1938, and from 1940 to 1944. He died 11 April 1984 in Saint-Bruno.
Raynault settled in Montréal in 1911. He began as a clerk in a commercial firm. He held several jobs before becoming an insurance broker. He quickly became an important businessman.
His political career began with his election in 1936 as representative of the Union nationale for the district of L'Assomption. He did not run in 1939. He seemed more interested in municipal politics. Elected alderman of Préfontaine district in 1934, he was leader of the opposition to Camillien Houde. In 1936, he became mayor of Montréal. During his first term, he managed the installation of the Botanical Garden, the construction of Pie-IX Bridge, and the acquisition of the Île Sainte-Hélène. He failed to fulfil his promise of municipalizing Montréal Light, Heat and Power.
Raynault did not run in 1938. When Camillien Houde was in prison, he returned to city hall. It was a difficult period as Montréal had been put under trusteeship by the provincial government because of a heavy debt. Québec imposed a new municipal political régime: the mayor headed a council of 99 advisers divided into 3 classes, and the city was divided into 11 electoral districts. During his second term, the provincial government of Adélard Godbout nationalized Montréal Light, Heat and Power and Beauharnois Light, Heat and Power to form Hydro-Québec. Raynault was re-elected in 1942. He was beaten in 1944 by Camillien Houde, who had returned from internment camps. He ran for the last time in 1954, but was defeated by Jean Drapeau.