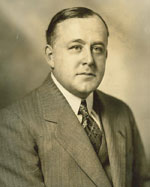 Fernand Rinfret was born 28 February 1883 in Montréal. Journalist, he was mayor of Montréal from 1932 to 1934. He died July 12th, 1939 in Los Angeles.
Rinfret studied at the Collège Notre-Dame and Collège Sainte-Marie in Montréal where he received a B.A. degree in 1900. He started his career in journalism at L'Avenir du Nord in Saint-Jérôme. Starting in 1907, he worked for Le Canada newspaper in Ottawa; in 1909, he became editor. He entered the House of Commons in 1920 to represent Saint-Jacques. He was re-elected in 1921, then again in 1925, 1926, 1930, and 1935.
In 1932, when he was MP, Rinfret ran in the municipal election and defeated Camillien Houde. Because Rinfret was an experienced politician, Montrealers believed that he could block the St. Lawrence Seaway project. During his term, in the middle of the Great Depression, when the majority of building sites were stopped and that the economy ran idle, mayor Rinfret acted like a spectator. As the Société Saint-Vincent-de-Paul was no longer able to help the poor, the city council set up a municipal unemployment commission. Rinfret had been greatly involved in the development of the Montréal Library since 1917.