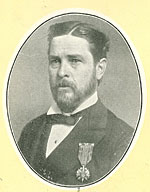 Sévère Rivard was born 7 August 1834 in Yamachiche, Québec. Lawyer and businessman, he was mayor of Montréal from 1879 to 1881. He died 4 February 1888 in Montréal.
He attended the Séminaire de Nicolet from 1848 to 1856, then studied law in Montréal under Laflamme and Barnard. He was called to the bar of Lower Canada in 1859.
Rivard quickly became an influential member of the Montréal bourgeoisie. He made a huge fortune thanks to land speculation; at the beginning of the 1870s, he bought land in northern part of Montréal and resold it as building lots. He also owned a prosperous wool factory in Yamachiche, and an organ business in Montréal.
In municipal politics, Sévère Rivard was initially councillor for Saint-Jacques ward in 1870. He served as chairman of the lighting committee and was member of the committee supervising the construction of the new city hall. He became mayor of Montréal in 1879 by defeating Jean-Louis Beaudry, regarded as invincible. The following year, he was re-elected without opposition. He distinguished himself by sustained efforts to put municipal finances on a sound footing after a decade of large scale projects such as a sewage system, the development of Mount Royal Park, and the construction of city hall. Thanks to increasing revenues, he contributed to the development of waterworks and sanitation systems.
See : Dictionary of Canadian Biography Online