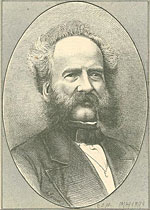 Charles-Séraphin Rodier was born 4 October 1797 in Montréal. Merchant, lawyer, and philanthropist, he was mayor of Montréal from 1858 to 1862. He died 4 February 1876 in Montréal.
He attended the Sulpician College of Montréal, 1809-1810. He entered the dry goods business and amassed a considerable fortune. He studied law in Montréal under Alexander Buchanan and was admitted to the bar in 1841.
He was keenly interested in municipal politics. He was one of those who petitioned for Montréal's first municipal charter of 1831. He was also an elected councillor from 1833 to 1836. The charter was not renewed, but Rodier was appointed justice of the peace in 1837. After the city charter came into force in 1840, he became a member of the new council appointed by Governor Poulett Thomson. In 1858, Rodier was elected mayor of Montréal. He was re-elected in 1859, 1860, and 1861. He was defeated in 1862 by Jean-Louis Beaudry.
Under Charles-Séraphin Rodier as mayor, Montréal saw the improvement of its financial position, the building of new docks, the installation of a public transportation system in 1861, and the opening of Crystal Palace. In 1860, he greeted the prince of Wales at the inauguration of Victoria Bridge. Concerned about the well-being of Montrealers, Rodier personally intervened at the time of the heavy flood of April 1861; he himself distributed food for the stranded from a skiff.
He was also active in religious charities. In 1868, he gave part of his buildings to the Grey Nuns for their orphanage. In 1872-1873, he built them a larger building. He also helped the Sulpicians and the Sisters of the Good Shepherd.