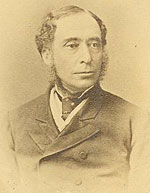 Henry Starnes was born 13 October 1816 in Kingston, Ontario. Merchant and banker, he was mayor of Montréal from 1856 to 1858, and from 1866 to 1868. He died 3 March 1896 in Montréal.
He was educated at the Montréal Academical Institution and the Petit Séminaire de Montréal. He did particularly well in the wholesale business until 1859. His interest then shifted to banks.
Eager to play a major role in the affairs of the country, he entered politics. He served as city councillor for the West Ward of Montréal from 1852 to 1855. He became mayor of the city and served two terms. He won a seat in the Legislative Assembly in January 1858; he represented Châteauguay until 1863. For the rest of his political career, he was member of the Quebec Legislative Council from 1867 to 1896. Among other government positions he held, he was a railway commissioner from 1 August 1882 to 11 February 1884.
The career of Henry Starnes was sullied by the Pacific scandal. It was Starnes, as a banker, who conveyed huge amount given by Hugh Allen to George-Étienne Cartier in exchange for the contract for the construction of the transcontinental railway. The discovery of this transaction brought down John A. Macdonald's government in 1873 and tarnished the reputation of Starnes.
On the municipal level, for his two terms as mayor, Starnes was a good city manager. He was keen on improving the city administration when Montréal was undergoing an economic and demographic boom. He took part in the discussions to increase the capacity of city waterworks. He proposed a complete revision of the city's taxation and collection system. In 1867, he engineered the acquisition of city hall site from the federal government.