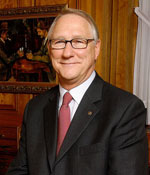 Elected mayor of Montréal in November 2001, Gérald Tremblay was re-elected to a second term in the fall of 2005. In addition to his role as mayor, Mr. Tremblay is chairman of the Communauté métropolitaine de Montréal (CMM) and the Montréal Agglomeration Council. Throughout his career, Mr. Tremblay has explored numerous fields of activity that have allowed him to expand his expertise in the areas of business and community development.
As mayor of the province of Québec's major city, he uses the experience he has acquired to serve his community. His goal is to build a city whereby citizens' remain at the heart of the concerns of his administration. Following his arrival at city hall, Gérald Tremblay demonstrated his skills at uniting people when he invited all Montréal partners interested in the development of the city to work together and propose projects that would secure Montréal's future. He also demonstrated his leadership ability by laying the foundation for the new City of Montréal. In addition to these accomplishments, he provided Montrealers with a long-term vision of the city through: Imagining and Building Montréal 2025 – A World of Creativity and Opportunities, which was the fruit of the 2002 Montréal Summit and the ensuing action plans.
A lawyer and member of the Barreau du Québec since 1970, Gérald Tremblay holds a Master of Business Administration (MBA) from Harvard Business School. He developed a business turnaround concept while acting as senior partner and general manager of a consulting firm under the Sobeco Ernst & Young Group. After helping to revive the Fédération des Caisses d'entraide économique du Québec, he was noticed by the Government of Quebec at the time, which was led by Robert Bourassa. He was president of the Société de développement industriel du Québec from 1986 to 1989 and then served on the Caisse de dépôt et placement du Québec and Hydro-Québec's board of directors, becoming member of the latter's executive committee.
In 1989, Gérald Tremblay was elected as the Liberal MNA for Outremont and appointed Minister of Industry, Commerce, Sciences and Technology from 1989 to 1994. During his mandate he designed and advanced Québec's economic development strategy based on the industry cluster concept.
Today, in addition to being mayor, president of the CMM and the Agglomeration Council, Gérald Tremblay is shouldering other responsibilities in various Canadian and international bodies. Among others, he is member of the Federation of Canadian Municipalities (FCM)'s board of directors and holds different positions within this organization's Big City Mayors Caucus. He is also director of the St. Lawrence/Québec region under the Great Lakes and St. Lawrence Cities Initiative. Furthermore, Gérald Tremblay is member of the United Cities and Local Governments (UCLG)'s executive board and also serves as vice-president of the Commission sur l'eau et l'assainissement. He is executive vice-president, treasurer and president of METROPOLIS' Commission sur le financement des services et des infrastructures and founding member of the World Mayors Council on Climate Change. He was recently elected vice-president of the Association internationale des maires francophones (AIMF) and is a member of Mayors for Peace.