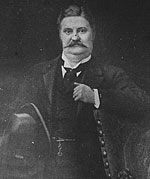 Richard Wilson-Smith was born in 1852 in Northern Ireland. Journalist and financier, he was mayor of Montréal from 1896 to 1898. He died 12 September 1912 in Sainte-Agathe-des-Monts.
He immigrated to Canada in 1879 and was established in Montréal. In 1882, he worked as journalist for the Insurance and Finance Chronicle review which he became owner. Better known as a broker in placement, he directed several commercial and financial companies.
He entered municipal polictics as alderman of the Saint-Laurent Ward in 1893 and was re-elected two years later. In 1896, he became mayor. Candidate of the English-speaking citizens and not speaking french, he took advantage of the tradition of alternation of french and english mayors.
During his term, Wilson-Smith tackled patronage and the excessive growth of the public service. According to him, civil servants should be selected on the basis of examinations to check their skills. He condemned subcontracting and maintained that city personnel should be responsible for all works and services. Finally, he campaigned to control expropriation costs.
Richard Wilson-Smith always maintained good relations with French-speaking councillors and their leader, Raymond Préfontaine.