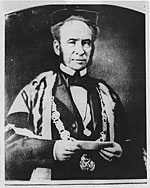 William Workman was born May 1807 in Ireland. Businessman, he was mayor of Montréal from 1868 to 1871. He died 23 February 1878 in Montréal.
Workman immigrated to Canada in 1829. His academic training is not known. Soon after his arrival in Montréal, he was hired by a newspaper, the Canadian Courant and Montréal Advertiser. In 1830, he worked in a wholesale hardware store and was a full partner from 1836 to 1859. He was also active in banks, railroads, and land speculation. Gifted for trade and finance, he became a rich and prosperous man.
Workman was interested in municipal politics. He was easily elected as mayor in 1868 by defeating Jean-Louis Beaudry. He was re-elected by acclamation in 1869, and 1870. His political philosophy was simple: a city like Montréal had to be managed for the benefit of all residents instead of businessmen only.
Most of his term dealt with improvement of streets, draining of lowlands, change of wooden pipe sewers, construction of public baths, daily collection of household refuse, building of municipal slaughterhouses, rehabilitation of waterworks. He also campaigned for the conversion of Île Sainte-Hélène and Mount Royal into public parks. Montrealers thus improved their quality of life and enjoyed a greater level of prosperity.