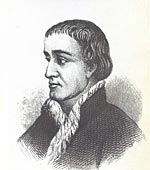 Paul de Chomedey de Maisonneuve and a group of about 40 from France went up the St. Lawrence River and reached the island of Montréal on May 17, 1642. The next day, the first settlers founded Ville-Marie on the site chosen by Champlain in 1611. The objective of the expedition was quite different since the religious ideal of the Société de Notre-Dame was at the origin of the creation of this colony.
The first year was mainly devoted to the construction of a fort, to ward off Amerindian incursions, and of some dwellings. The beginnings of the colony were rather difficult: the constant iroquois threat and the increase in population was practically null during the first ten years. Maisonneuve, first governor of Ville-Marie, and Jeanne Mance, who founded the Hôtel-Dieu in 1645, played an important role in the survival of the group.
The colony was rebuilt on the arrival of new colonists in 1653 and 1659, nearly one hundred in each case. More and more colonists then cleared the lands they were granted. The first institutions were set up, in particular the first school opened by Marguerite Bourgeoys in 1653. The construction of dwellings intensified and certain religious communities were founded. In 1663, the Société de Notre-Dame assigned the seigniory of Montreal to the Saint-Sulpice Seminary, a religious group from Paris. Montréal then had a population of 600 and it doubled at the end of the century.
The Great Peace of Montréal in 1701, on the initiative of the governor of New France, Louis-Hector de Callière, put an end to the Iroquois threat on the colony. This treaty, just as the period of thirty years peace that followed the treaty of Utrecht, makes it possible for the colony to develop and to strengthen itself. In 1731, nearly 3000 people lived in Montréal.
The secular wars between France and England extended to America. English troops invaded Canada. After the defeat of the French near Québec in 1759, Montréal surrendered and became a British city.
Starting with Paul de Chomedey de Maisonneuve and during all that period, Montréal is ruled by governors representing the king of France.