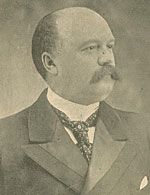 New elites also appeared on the local political scene. In 1870, businessmen were competing with professionals as well as merchants and small entrepreneurs from the middle classes. Wealth was no longer the main political resource, and the popularity of candidates became a major electoral asset. The ethnic composition of city council changed during that period. From 1882 on, francophones held a majority.
The respective annexation of the villages of Hochelaga and Saint-Jean-Baptiste in 1883 and in 1887 increased in turn the representation of francophones. But this brought about new political alliances under the leadership of Raymond Préfontaine, former mayor of Hochelaga. As chairman of the Road Committee, he set up what historians have called a "political machine". Préfontaine gained the support of francophone voters through the awarding of lucrative paving and road building contracts, as well as jobs in the new districts.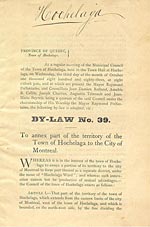 The development of those infrastructures eventually brought about an increase in property values and spurred on real estate construction, which in turn guaranteed the support of real estate promoters.
At the end of the nineteenth century, there emerged a first movement of opposition to such patronage practices, and the municipal government was the object of harsh criticism. Businessmen and owners, members of associations such as the Board of Trade and the Real Estate Owners Association headed the urban reform movement. They criticized the operation of municipal institutions, especially the election of councillors in districts. They maintained that elected representatives were inclined to favor the development of their district, thus disregarding problems within the city as a whole.