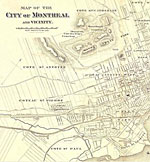 As was the case for provincial elections, new provisions were adopted to improve the Elections Act and pave the way for municipal elections. In 1874, the preparation of electoral lists followed a more elaborate process. The lists drawn up by city appraisers were henceforth submitted at regular intervals to the city treasurer in order to be certified. The latter was responsible for designating the electors who had paid their taxes within the prescribed period. Taxpayers were no longer required to secure a receipt before voting. The certified list was submitted to the city clerk and kept in his office for consultation or revision purposes. Under the new procedure, nomination papers were filed at city hall, thus putting an end to public nomination meetings that often led to heated debates between the supporters of various candidates.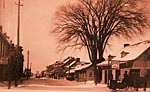 Polling stations were now set up in all nine city districts. Electors were called upon to choose three commissioners in each district. Voting hours were between 9 a.m. and 5 p.m., one day only.
The year 1889 marked a transition period in the democratization process. The secret vote, which had been in effect since 1875 at the provincial level, was finally introduced. Electors could thus exercise their right to vote more freely. In 1889, that right was granted to certain categories of women, namely women of age and widows who were owners, then in 1889, to female tenants.